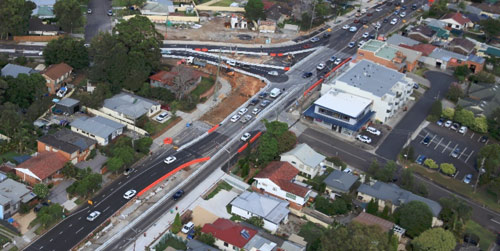 Client
Roads and Maritime Services Central Coast Office
Client
Jai Reddy / Ray Beatie
CCHD Team
Adam Hillard – Lead Designer
Mark Raven – Estimator
Matt Olle – Project Manager (Construction)
Project Description
Roads and Maritime Services proposed upgrade of several intersections along Wyong Road to improved safety and reduced travel time. Carrying up to 46000 vehicles a day, Wyong Road links the M1 Pacific Motorway at the Tuggerah Interchange to the eastern coastal suburbs and Central Coast Highway at Long Jetty. Due to the close proximity, the intersection of Wyong Road/Mingara Drive and intersection of Wyong Road/Tumbi Road upgrades were consolidated into a single project.
Services Provided
Hillard Civil (CCHD) was engaged to carry out desktop constraints mapping, preliminary options investigation, strategic road design & documentation and project management in the construction phase.
The strategic optioning phase involved preliminary layouts developed to 20% strategic design level and traffic modelled, these included combinations of roundabout upgrades, TCS and alternate routes.
Existing roundabouts at both intersections to be upgraded to TCS, widening to the south of the westbound approach at Mingara Drive requires extension to the existing culverts and an off-road shared path to be provided both eastbound and westbound for the extent of the project.
The road corridor was constrained by existing residences and the design aimed to minimise differences between existing and proposed pavement levels and to keep roadway within existing kerb lines where possible however removing the roundabout at the crest at the Tumbi intersection required investigation into several vertical alignment options. To provide satisfactory sight distance the crest on Wyong Road at the Tumbi Road intersection pavement levels required lowering.
In the delivery phase CCHD assisted RMS with the development of detailed design, preparation of tender documentation and tender estimates, tender review and award, community and stakeholder consultation, property acquisition, post-tender and project start-up activities and all aspects of project management during construction.